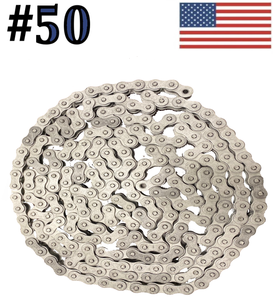 #50 x 10ft Dacromet Plated Corrosion Resistant Roller Chain With Connection Link
Brand new #50 Dacromet Plated Roller Chain 10 FT + Free Connecting Link - Same Day Priority Shipping
Our high quality roller chains fully meets all ANSI standards. These exceptionally durable and economically priced roller chains have higher than average tensile strength. Our roller chains have heat-treated side plates to ensure the strength and durability of the roller chain. These roller chains also feature solid rollers which will increase the performance and life of the chain. For more information about our roller chains or any of its accessories that we offer, please contact us.
Made from premium material that enhances durability; all products have been manufactured in our ISO9001 certified facility
Please see table below for specifications on our single strand roller chains
Chain No.

Pitch

Roller Diameter

Width Between
Inner Plates

Pin Diameter

Pin length

Inner Plate
Depth

Plate Thickness

Ultimate Tensile
Strength

Weight Per
Meter

p

d1 max

b1 min

d2 max

L max

Lc

h2 max

T max

Q min

q

inch

inch

inch

inch

inch

inch

inch

inch

lbs.

lbs./foot




50DR

 5/8

0.400

0.370

0.200

0.815

0.874

0.594

0.080

4991

0.069
Xilin USA Corp. is dedicated to being the premium provider of agricultural and industrial chains and sprockets in the USA. Striving to provide the highest quality chains and sprockets possible, Xilin USA Corp. provides its customers with reliability, long service life and peerless wear and fatigue performance of Xilin USA Corp. products.
We have more than 500 employees engaged in the production of Xilin USA Corp. chains and sprockets in our China's factory. Our group of manufacturing facilities are ISO 9001 & 9002 certified and we are proud to be a quality winner. For over 30 years, these high quality products have been sourced by many top US companies. Our major products cover more than 1 thousand products and approximately 10 thousand specifications. These products conform to the standard of GB、ISO、ANSI、JIS、DIN and BS. Please refer to the product category for more information.
Return & Shipping Policy
Due to the nature of the item, to be eligible for a return your item must be unused and in the same condition that it was received. It must also be in the original packaging. The customer will be responsible for the return shipping cost. We ship from Mon - Fri 9AM - 5PM. We are closed on Holidays. 
 ALL SHIPPING/HANDLING TIMES ARE ESTIMATED FROM USPS AND WE CAN NOT GUARANTEE DATE OF DELIVERY
100% Satisfaction Guaranteed